In director Shim Hye-jung's A Bedsore, a paralysed woman's festering ulcer serves as the catalyst for her family's gradual implosion, as husband Chang-sik (Kim Jong-gu) clashes with his self-involved children and caretaker Sook-ok (Jeon Guk-hyang) over the best course of action for treating his wife Gil-soon (Kang Aesim).
Amidst all the quarrelling, the bedsore itself proves an adaptable metaphor for an array of societal concerns – from illegal immigration, to the rift between generations – while a silently suffering Gil-soon remains a passive witness to conflict in her house.
With A Bedsore screening at this year's London Korean Film Festival, we sat down with Shim to discuss her tender yet incisive new film.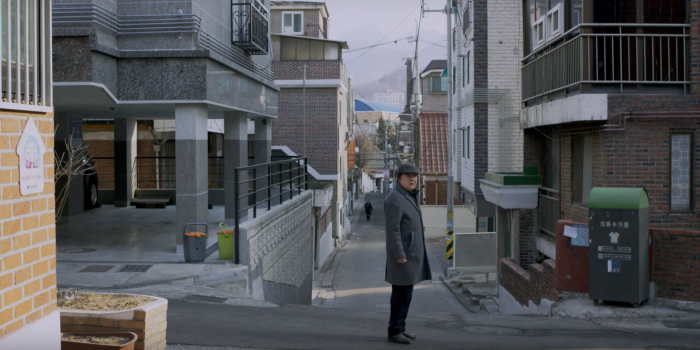 Questions by David Pountain, Paul Quinn from Hangul Celluloid, Grace Han from Asian Movie Pulse, Cathy Brennan from Screen Queens, and Roxy Simons from Eastern Kicks. Answers edited for clarity.
What were your motivations for taking a frail elderly couple, their family, and their carer as the subjects of your debut feature? Was the inspiration social, personal, or simply cinematic?
Both personal and social. People around my age often speak about caring for the elderly and the family conflicts that come out of that. So while I was writing a script, there was this social immobility that's been taking place in Korea that's been talked about a lot. In Korea, it's becoming much more difficult to move between classes. It's become stagnated. A bit like a bedsore, it's kind of stuck there and it becomes rotten. So that's something I was thinking about.
Tell me more about Jeon Guk-hyang's character. She is very controversial in a way, being an illegal immigrant.
My mum was ill for a while so had to be cared for by these helpers. A lot of this work has been done by Korean-Chinese groups, and while it used to be 80% Korean and 20% Korean-Chinese for these jobs, now it's kind of reversed. Now more Chinese-Koreans are doing this job. It's kind of become a phenomenon. It's such a low-paid profession, and they need to understand the culture and the social norms in order to perform this job well. So I think Chinese-Korean people who are familiar with Korean culture are doing a lot of this work – domestic help as well as caring for the elderly.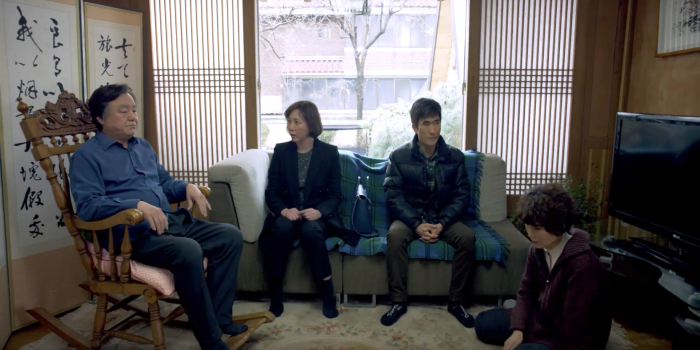 Sook-ok has to immigrate to Korea to support her family back home, while Chang-sik's children often seem excessively caught up in their own lives and self-interests. Would you say the film presents quite a despondent view of the traditional family unit? Are the old structures beginning to fall apart?
Korea's been a really strong patriarchal society and I feel like it's kind of the end of it now. The tradition is diminished, and I think often with the old traditions, when it reaches the end, it reveals its essence in some ironical way. I think that's what's happening now. And I'm very interested in how the old remains and how it carries certain meanings about society. So this is how this story came about.
There is also an American film that premiered this year called Lingua Franca about an undocumented Filipino woman who works as a carer for an elderly Russian woman in Trump's America. Why do you think the role of the caregiver would be appealing to filmmakers at this particular moment in time?
I think there are lots of migrant workers in Korea, but there are not enough stories about them. Like I said, caregiver is such an intimate job. You're really deep inside of one's home, and it means you are really deep in society as well, but I feel like it's not discussed. There have been some very sensational stories about migrant workers in Jeju, but again, it's not portrayed as our everyday. I feel this is a major social issue, but it shouldn't be considered as some kind of sensational phenomenon. I'm more interested in the psychology of the Korean people, and how they perceive the migrants.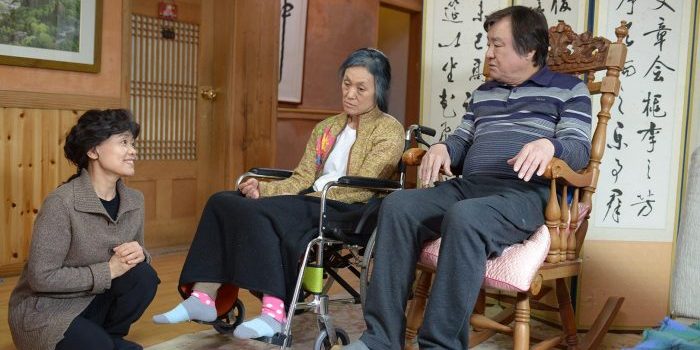 When you were making the film, were you nervous about how foreign audiences would relate to it, or were you confident that the themes were universally understandable and relevant?
My understanding is that Europe has much better care and support, and I thought they might wonder why the family has to care for the elderly. Why is it the responsibility of the family, not society? So I thought that might be very specific to Korea, but these conflicts among the family members – competitions among the different siblings etc. – I thought could be internationally appreciated and understood.
This feels like a very feminist film. The female characters are very strong, and there's a lot of focus on the pressure that women have to bear to take care of the family.
All my short stories had women as the main protagonists. With this story, Chang-sik, the elderly man, is the main protagonist, but I think I'm basically interested in the minor characters, whether they're elderly or women or migrant workers. That's kind of the group of people I'm interested in. I also like strong survivors who work very hard, and the main caretaker in this film is just full of energy. That's something I witnessed and wanted to portray.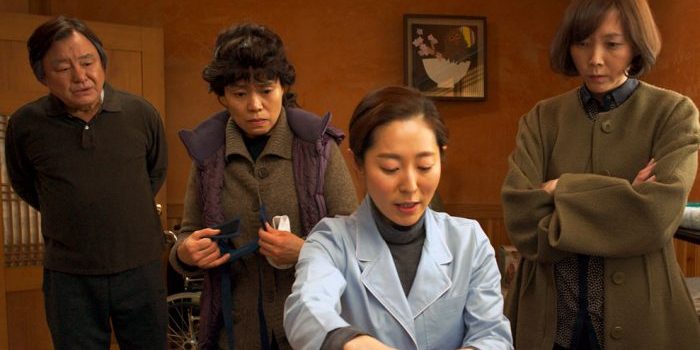 Sook-ok feels she needs to get married in order to stay in the country, and Chang-sik even offers to divorce his wife so he can help her, suggesting that both of them view marriage more as a legal matter than anything more romantic. What role do you feel marriage still plays in the modern world? Is it becoming an outdated institution?
It's a complex situation. If you remember, just before they actually decide to get married, they have this discussion. Chang-sik says, "If we do the paper work and if we live in the same home, that means we're married," but then she says, "You need a divorce. I also have a husband but we don't live together but I give him to support," etc. So basically, there are different approaches to marriage that are being discussed. I feel that our understanding of marriage is definitely becoming much more flexible.
Given the personal subject matter, how did the actors approach their roles?
All the actors who are in my films come from the theatre. So I don't know how other directors work but I talk with them a lot. We read the scripts together and we just spent a lot of time preparing for shooting. I had a limited budget, so I couldn't do too many things during the shoot.
The British filmmaker Mike Leigh is someone I really admire. I know that he works a lot with theatre actors and I find how he creates characters really amazing. I studied quite a bit of how he works with his actors when I was preparing for his work. Understanding that gave me confidence on my methodology.
What's next for you?
I'm working on a new project. We just bought the rights for adapting a novella called Flowers of Mold, so I'm going to develop that into a feature film.
A Bedsore screened as part of the 2019 London Korean Film Festival.
Cover photo by Roxy Simons.