By Jessica Duncanson
Director: Aki Kaurismäki
LOCO Film Festival 2017 review
Aki Kaurismäki's The Other Side of Hope follows Syrian asylum-seeker Khaled (Sherwan Haji), who arrives in Finland after stowing away on a coal ship. Upon applying for asylum in Helsinki, Khaled's naivety is gradually worn down as he encounters the ridiculousness of the system, as well as violent run-ins with right-wing Liberation Army thugs. However, he is offered critical friendship and assistance from various strangers as he attempts to find his missing sister and navigate his new beginning. The film fits in perfectly with LOCO Film Festival's ideology – to promote comedy not for escapism, but as a way to deal with life's struggles.
Khaled's story is oddly interconnected with the life of a middle-aged Finnish man, Wikström (Sakari Kuosmanen), a former shirt seller who leaves his job and his wife to become a restaurant owner. Like Khaled, he is attempting to escape to what he believes to be a better life. His journey, however, is a voluntary result of boredom and, in no short part, due to a bizarre stroke of luck. Upon purchasing a run-down restaurant, Wikström inherits three employees, whose ridiculous deadpan gags seem to make up for their professional hopelessness. Khaled and Wikström eventually meet face-to-face, after a misunderstanding leads to a brief punch-up, and the restaurant owner and his employees adopt Khaled into their absurd world with accommodating ease. With unquestioning generosity they shelter him, hide him from the police, and even buy him a fake ID. In fact, throughout the film there is a strong insistence that no-one can succeed in this world alone.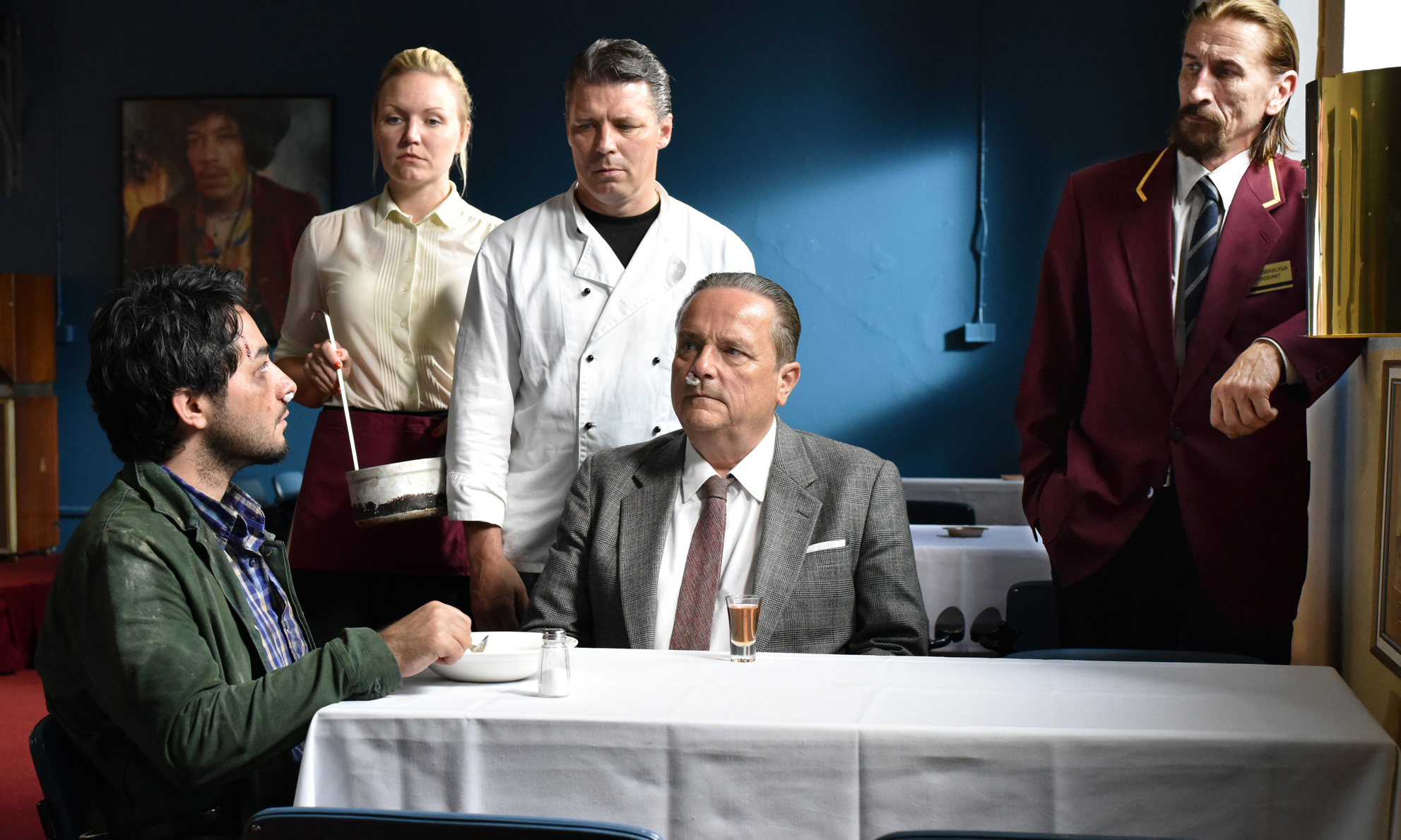 Stylistically evocative of Roy Andersson's 2015 oddity A Pigeon Sat on a Branch Reflecting on Existence, the film masters absurdism and deadpan humour. Using isolated lighting, the film reaches otherworldly places, while remaining grounded through its depiction of real-life torments. The protagonist's cold dark eyes, fixed almost consistently in the same stern yet determined expression, seem to appear more and more ridiculous the longer they remain the same. His statement 'I don't understand humour' is a fundamental give-away of his bizarre comic appeal. With set designs that nostalgically appear from another time, the film is nonetheless rooted in harsh modern reality by its all too relevant subject matter.
This reality is where the film's absurd nature gives way to sobering social critique. The feat of seeking asylum is portrayed in all its unfairness and impersonality. Despite suffering such numbing frustration, Khaled is comforted by the friendship of another man in the same position, as well as his unfaltering determination to find his missing sister. Paired with footage of an escalating bloody situation in Aleppo, the official decision that returning to Syria poses no threat to Khaled's life is infuriatingly revealing of a failing system. Alongside a string of racist attacks, Khaled's struggle is certainly not denied tragic moments. Ultimately, however, the film allows kindness, kinship, and ridiculous humour to prevail.
The Other Side of Hope screened at LOCO Film Festival on May 5th at the BFI, London. Find more info here.
FilmDoo also recommends: