Watch Poison Flower on FilmDoo
Filmmaker Christopher Tew discovered an immigrant camp in the woods some 30 miles from Harlow while he was playing football. From then on, he documented the camp's residents, focussing on the turbulent relationship of Latvian Gundega and Brit Melanie. The two friends are really the most important people in each other's lives, however, it is a relationship plagued by physical and verbal abuse. Following a tormented life full of death and violence, Melanie is a homeless heroin addict who struggles with her own anger and violent tendencies. Gundega is an alcoholic and wanted criminal but is comparatively peaceful. The film documents these two characters as they seek release and ultimately a better future.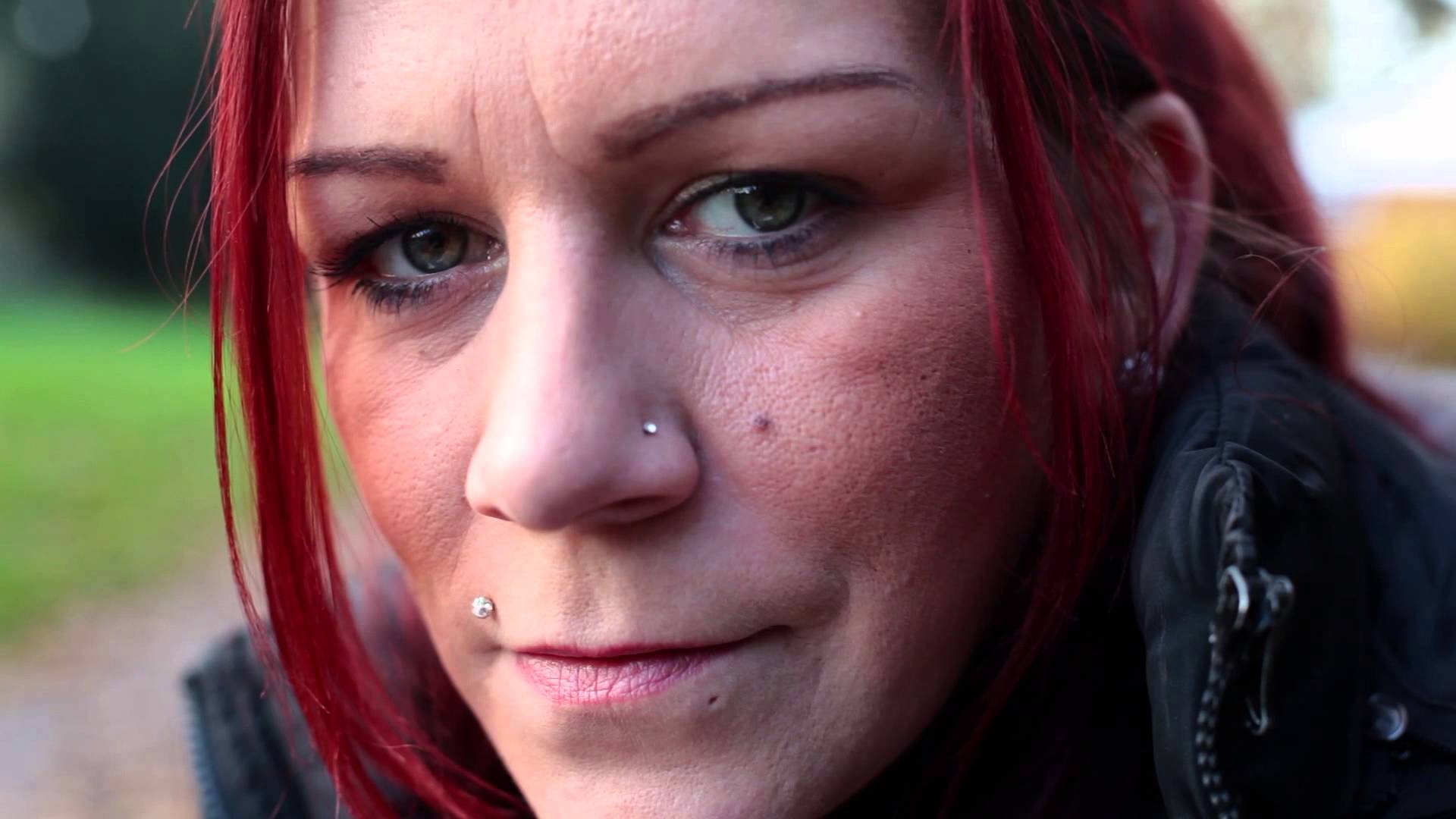 How did you come across this camp and what was the response from its residents upon approaching them to be filmed?
I'd just arrived back from India and I was playing football when I kicked the ball into the bushes and went to get the ball. I saw this camp of tents across the stream and I thought to myself "˜Wow, I've been in India where people were begging me for a visa to come to England and the reality is that in England people are living in tents'. I decided that on Monday I'd go in there and find out what was going on. So, that's how I first discovered that they were there. On the Monday I went in and for this project the first thing I took in was a guitar, I didn't even bring my camera that day. It was a case of just getting to know people really slowly. I was with them for a year basically, every day. I think I ended up taking maybe 2 weeks off in that year, the rest of the time I was with them every day.
I think that's how you get people on board and that's how you break down the barrier between filmmaker and subject; you become the subject. It's immersive filmmaking. That's how some of those scenes are so natural, it's because you have to commit your life to creating a film and telling a story. At the beginning there was no talk of filming, it was just me trying to become friends with people. After that I took the cameras in slowly and the first thing I did was give the camera to them. These are very vulnerable people and showing them that you trust them completely is very important. At the beginning I think some of them found it really embarrassing and hard for their pride. So, if you go in at the beginning and say that you're going to film them, I don't think you'd get anywhere like that. You've got to really get to know people and develop a bond with them.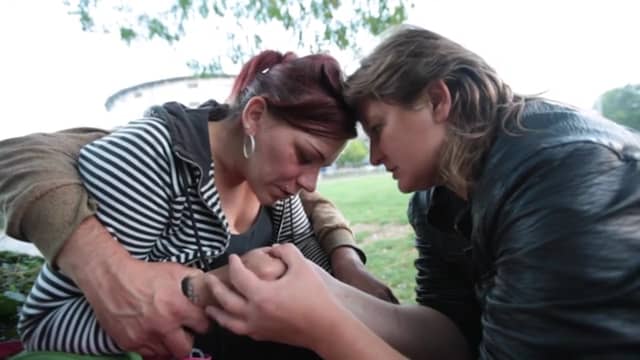 How would you describe the relationship you formed with Gundega and Melanie?
We basically became best friends. There was a community of them and on my website there are photos of the whole community, but I decided that Mel and Gundega were the strongest ones. It was tough because a few weeks earlier something similar had happened to Mel where a police officer had gone in and become friends with them for four months and then turned around and used the evidence obtained by this undercover police officer to prosecute her for intent to supply heroin. So, then all of a sudden there's someone else that wants to come in and be part of the group. I became friends with them and there were moments where, as a filmmaker and because it was my first full-on long feature film, things would happen where I didn't realise that I would have to go to such lengths to make a film.
Your approach to documentary making seems marked by a decision to mostly not interfere. Was this intentional?
I think it's crucial as a filmmaker not to go in and try to change people's lives. You should be a bystander. With this one I really wanted to create a fly-on-the-wall experience. I wanted to give people a window into that existence. Although, there were times where it was hard and I wondered whether as a human being and a friend I should have intervened. I was becoming more and more immersed in their world and on the one hand I was given all the access I needed as a filmmaker, but on the other hand, as a person that had built a bond with these people, I was thinking that I needed to say to them that this is not the way to live. For example, at one point Melanie wasn't on heroin anymore and throughout those times I gave a lot of encouragement and suggested that it was a good choice. But to try and capture the essence of their lives you can't interfere, you have to let them live their lives and if anything, after the camera stops rolling then you can give some advice if you see fit. It's a very fine line so you have to be very careful.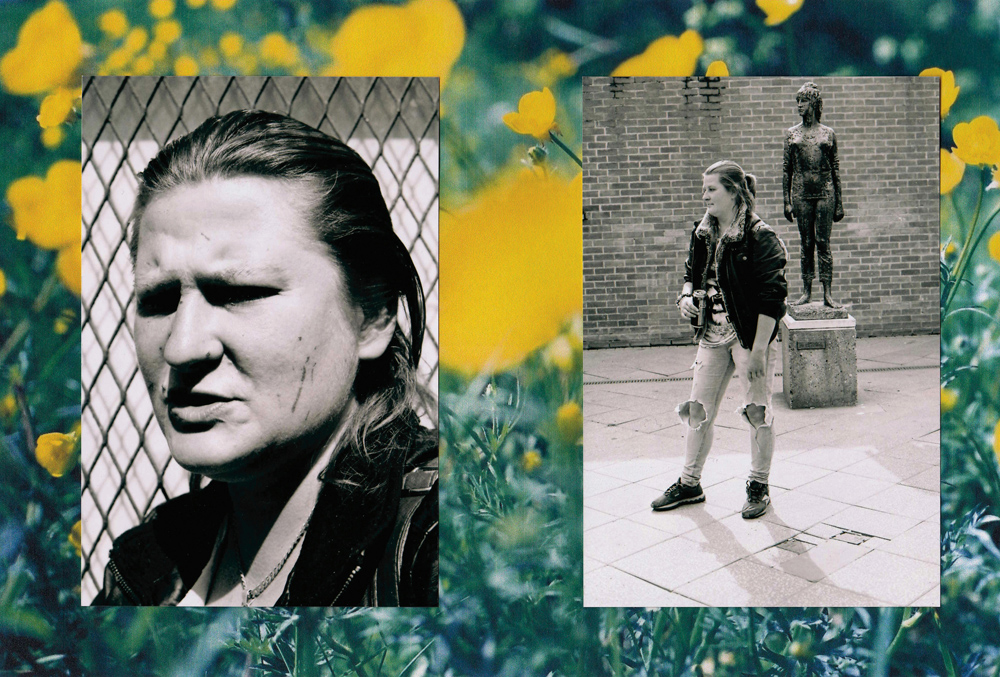 After spending lots of time up close and personal with people struggling with homelessness and drug abuse, what would you say to policy makers if given the chance?
Out of all the groups that Mel would go to, the probation, the drug testing, the police; if Mel had a one-on-one worker, one person focussed on her whose role would be just to get her off heroine, just to get her housed and just to get her stable in society, that could work. Just holding groups and then letting vulnerable people go out on their own will, it's not enough. It's not enough to run a few groups, it needs to be one-on-one treatment where a vulnerable person has a coach that is with them 9 to 5 and takes them to rehab and takes them to the housing agency, because otherwise there's a lot of self-destructiveness. What I noticed with that existence is that it's harder to actually have responsibilities and pay bills than it is to be an alcoholic and sit on the side of the street. Without one-on-one help people will just play the system, they go and get a signature to say they were at a certain group and they carry on so that they can stay on the dole. The whole system needs to be reanalysed from people that have lived that life, instead of people who have studied that existence. I was amazed, I only spent a year with them but the workers at some of the groups that I'd go along to and some of the doctors, they had no idea what the existence was actually about. So, if you don't understand the problem, how can you even begin to think about curing it?
So, I think the system needs to be entirely reanalysed. I suppose to a certain extent drugs need to be legalised. I think in Canada they have a place where people can go to safely take heroin and the figures show that people are actually weaned off that way. A big part of what I saw was that homeless people provide big business for drug dealers, they're always sniffing around finding addicts because it makes them money. If drugs were legal and people could go to a chemist or a shop to be given them, but also to be coached about getting off of them, then that could make a difference. A lot of these people don't want to be on heroin but it's strong stuff.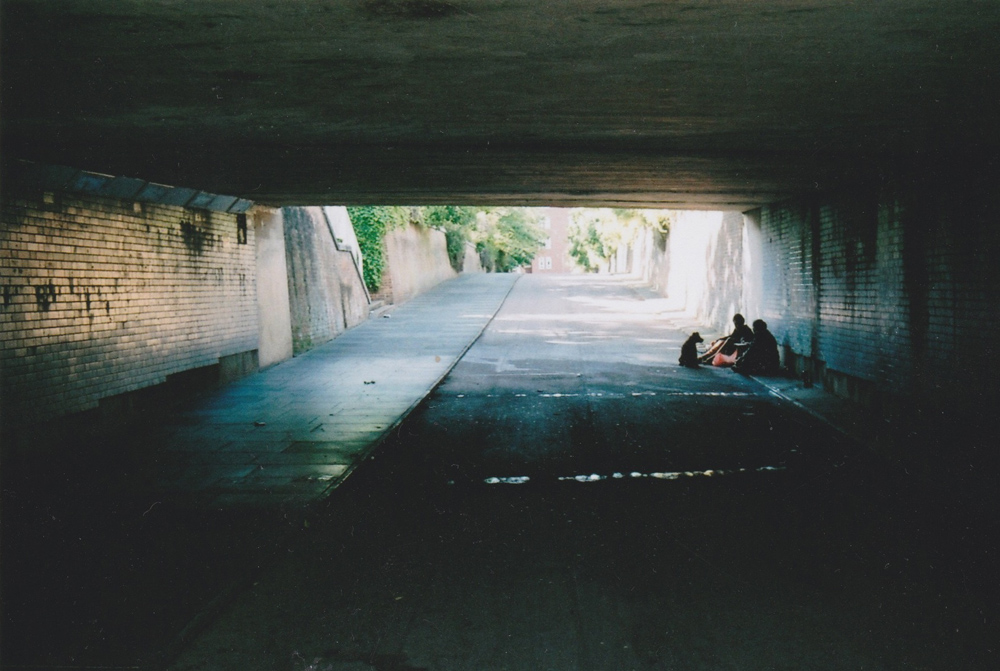 Did you always have a political intention with the film?
I think the only way to create a film like this is to start somewhere unknown, somewhere that creatively cannot be defined. It's something that evolves and that can only be done by immersing yourself and giving it time. I had no idea that the film would be about Mel or Gundega, I had no idea that there would be heroin involved. As a filmmaker, I was at that age where it was time for me to make a documentary so I knew that I was ready to commit to something, but I didn't know what I was committing to. At the Q&As and with other people I talk to, it's incredible how many political sociological human issues come up from the audience that watch the film. But, at the beginning I had no idea that any of that would have happened to be honest. The beauty of documentary is that you have to allow it to evolve, you have to allow life to take you on that journey. The filmmaker almost skates on the coattails of the subjects' lives.
Have you followed up with Gundega or Melanie since the completion of the film?
Every now and then I try to find out how they're doing. I spent a lot of time with them and it was very difficult to leave. When I speak to producers and other people, it's quite clear that people don't often really commit to making things like this and I think people are quite surprised at the amount of time I gave it. But it was very difficult to actually pull myself away from it. I went to Sheffield Doc/Fest for a week during the year and I had a photoshoot to do in Paris for a week as well, but for the rest of the time I was with them every day. I stayed in a tent with them for four months and then all of a sudden after Latvia I realised that it was a very unhealthy environment to be around. For maybe two years I didn't photograph people, something that I used to do all the time. For me it was an amazing experience but being around that negativity for so long was also damaging to a certain extent. But, I do keep in touch with them. Gundega's still in Latvia and she's out of prison now. I said to her that I think it's best that she stays there. I don't feel that coming back to Harlow would better her life in any way. Mel is still homeless on the streets.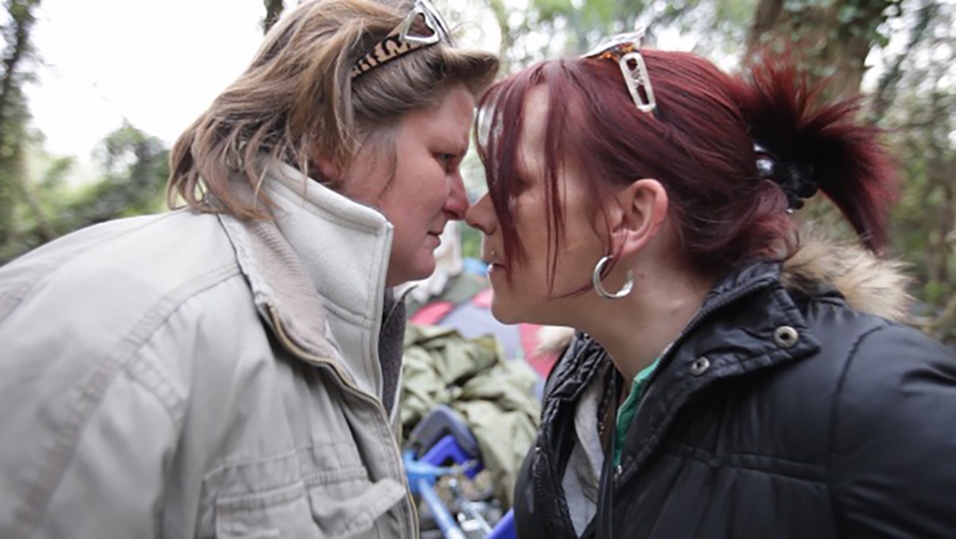 Are you currently working on any new projects?
There's a couple of projects in the works. I've started to photograph people again now which is interesting and I feel at the moment that I'm ready to make another film. I self-funded the beginning of Poison Flower. I gave myself six months where I didn't have to worry about finance and so I just went and jumped into it. Now, I'm in a different situation where I need to get funding to make another film, which is tricky. The industry puts a lot of constraints on people making these types of films. So, it's a matter of finding the means to be able to do another project. I've started a film in Senegal and the story is about homeless orphaned vagabond children who form gangs to survive. The concept is to create a story around one of the gangs, but the story is told with urban dancers. So, it's a documentary told through dance. It's called Teliba and there's a clip out now.
Watch Poison Flower on FilmDoo from Friday 9th December!
Banner image from Harlow Star.