By Sharon Calingasan
Directed by Phanumad Disattha, Xaisongkham Induangchanthy, Anysay Keola and Vannaphone Sitthirath
Love in its many facets, the Laotian way!
Vientiane in Love is a collection of five stories that tackle love in various forms: a probable romance; a love gone wrong; a long-extinguished love; familial love, as well as love for one's humble work; and unrequited yet unselfish love. These are embodied in the film with a sprinkling of music and songs all throughout. As a Love-month offering, this film is a unique representation of Laotian culture, and of a country that is eager to show us its teeming talents in the spheres of music and acting. It is very refreshing to see up and coming Lao artists take on diverse roles and characters with an evident touch of sensitivity, coyness and even reservation. This could be a strong indication of a much-preserved culture that the directors of the film would like to share with the rest of the world.
The segment "Update Status" strikes a chord with the generation of today, tackling the effects of social media usage and how it can be a powerful tool to destroy a person in just one careless click or Facebook post. Nevertheless, it also presents a positive side to things as the scenario signifies a probable romance between the two persons involved.
"I'm Fine, Thank You" tackles the story of a man and his ex-girlfriend meeting again, going on a stroll and reminiscing about the past. The lead character, played by ex-guitarist Deuk of the band Cells, finds a way to show his ex-gf how he was actually grateful that she dumped him, and the segment has a series of flashback scenes for viewers to totally grasp the real situation. In this part, viewers get a glimpse of modern Laos, with BMX bikers and skateboarders appearing in the background of one scene, as well as an indication that the country has fully embraced practices that are predominantly Western – something evident even in the fashion and clothes of the lead characters. Excerpts of a song that is sung early on by the lead actor, in a way, sum up the gist of the story: "Just let go of what happened", "I am willing to forgive but I will not love you as I did".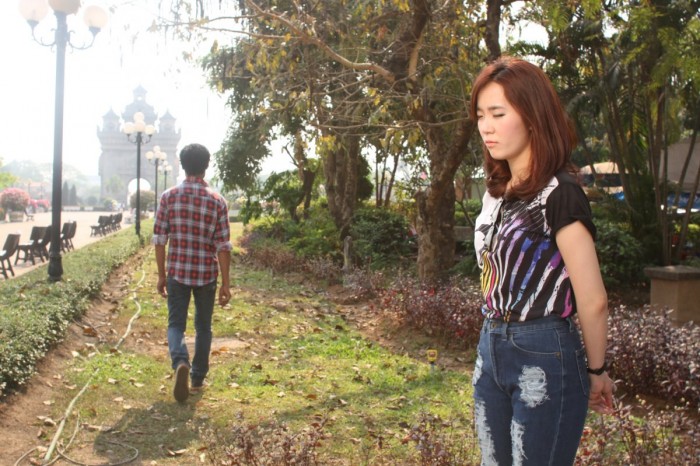 The segment, "The Truth" is quite a contrast from the two earlier ones, which are generally light impressionistic drama in tone. This neo-noir thriller opens with the lead character following a man, who turns out to be her philandering husband. The plot takes an interesting turn, with the wife resorting to unconventional means to get even: she hires the mistress and, in the process, obtains information divulged by her husband to the woman. The segment sees two kinds of love caught up in a sort of tug-of-war: a wife's love that turns into hatred and a mistress' love for a married man that is forbidden and informed by limitations and consequences. Elements effectively used to set the thriller-tone type of genre in this segment include dark scenes and shadows, shots of a whirling ceiling fan and splattered blood. The final scene presents an avenged wife and a publicly humiliated husband – a fitting conclusion indeed.
"Against the Tide" is about a father who pays his daughter and son-in-law a visit in urban Vientiane but finds that city life is not for him. Aside from his devotion to the only work he knows, fishing, the lead character also misses his home. Conflict arises when he overhears his daughter and son-in-law's true motive of convincing him to live with them, and the final scene that ensues is emotional but very eye-opening.  This segment veers quite a bit from the others, in that it doesn't tackle romance and issues around it but rather the love of one's occupation and family relationships.
The film saves the best for last with "Longing for Love", a heartwarming comedy about a photographer in the Patuxai arch monument area who finds an unexpected friend-cum-romance prospect. There are many hilarious scenes and the lead fits into his role nicely – his facial features alone are enough to stir laughter. What makes this segment stand out from the rest is not only the comical treatment of its story but also how realistic its lead character is. He knows the heartbroken but pretty lady can never fall for him and this he fully realizes after a conversation with her ex-boyfriend. The protagonist may be head-over-heels in love with the lady but he is sensible enough to acknowledge that they will never be a couple, even as the lady hints that she likes him for his good heart and deeds. It's very interesting to note that this particular segment is written and directed by Anysay Keola whose debut project was Laos' first thriller, At the Horizon.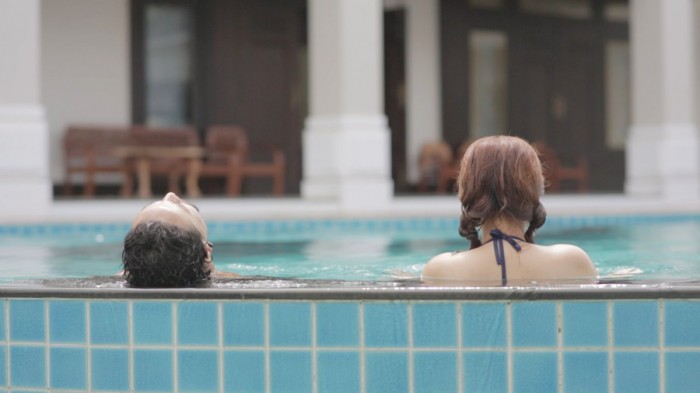 Acting-wise, the characters that really shone in this film include the strong but pained wife of "The Truth" and the comedian/lead actor of "Longing for Love". But while these two leads express themselves particularly well, due credit should also be given to the mistress, the two young people at odds in the segment "Update Status", the brokenhearted lady as well as the photographer-friend in "Longing for Love" and the homesick father in "Against the Tide". Though the performances of the rest of the cast are fairly lukewarm, there's still plenty of room for growth and, if honed well, some of them may make their mark in the Lao film industry in due time.
The film, in a nutshell, gives viewers a glimpse of romance and human relationships in the context of Laotian society. It is a genuine surprise to discover that there is no single love scene or kissing scene in the whole film. There is an aura of modesty and reservation which could be an innate component of the nature of this society. Viewers can also observe a certain restriction in movements of characters, which may be a filmmaker's style but could also be subtle cultural clues. The music and songs interjected all throughout the film are admirable, upbeat and relatable for the viewers. Even the piece used in the segment "Against the Tide", which sounds like a song ingrained in the culture, is a great choice. All in all, this is one film that is not only engaging but also captures the heart of the audience with its simplicity, sincerity and innate charm.
Watch Vientiane in Love on FilmDoo.com.
FilmDoo Also Recommends: