Dir: Erik Poppe
By: Hannah McNicholas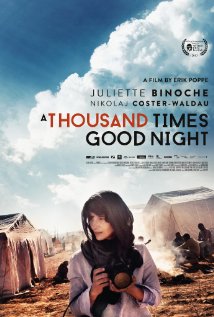 A Thousand Times Goodnight (Tusen Ganger God Natt) is a truly international ilm. The English language debut of director Erik Poppe, this Norwegian/Swedish/Irish collaboration was shot in Morocco, Ireland, Kenya and Afghanistan, and stars French Juliette Bonche and Danish Nikolaj Coster-Waldau as a wife and husband at war with themselves. Got all that? Still with me?
Rebecca (Binoche), a leading war photographer, is nearly killed in a suicide bombing, and her husband Marcus (Coster-Waldau) decides he can no longer put up with her dangerous life. Torn between her commitment to her family and her passion for her work, Becca struggles to adapt to her quiet life at home. When her daughter takes an interest in Becca's photos, her two worlds violently collide.
A Thousand Times Goodnight won the jury's Special Grand Prix at the 2013 Montreal Festival des Films du Monde, an award it well deserved. Drawing on Poppe's experience as a warzone photojournalist, this is an intimate and honest portrait of a woman in crisis. The conflict between Becca's personal and professional lives drives the film, and standout performances from Binoche and Coster-Waldau are matched by newcomer Lauryn Canny as a daughter struggling to connect with her absent mother. The film is beautifully shot, making full use of breath-taking locations and a gorgeous colour palette.
Despite the wonderful cinematography, this is not an easy film to watch. Poppe doesn't romanticise the terror of warzones and refugee camps, nor does he paint Becca as a hero – she is deeply flawed and utterly believable. It is difficult to watch her struggle to hold her family together, and even harder to watch her taking photos as bombing victims lay dying. The film toes the line of melodrama, and some may find it heavy-handed in its message, but a absorbing story led by very human characters makes this a poignant, engaging film that lingers long after the credits have rolled.
This is a beautiful, compelling, yet confrontational movie – not an easy watch, but not one to be missed.