Dir: Koji Fukada
By: Sarah Jilani
Reminiscent in tone to a mix of Franí§oise Sagan's Bonjour Tristesse and Eric Rohmer's A Summer's Tale, Japanese director Fukada's gentle coming-of-age film takes place at the end of a warm, lazy summer before teenage Sakuko – bored, wistful and sweet – takes her university entrance exams.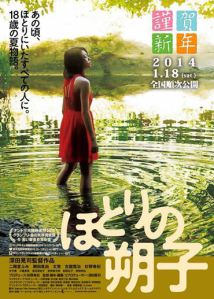 Sakuko (Fumi Nikaido) and her aunt Mikie (Mayu Tsuruta) return to their seaside hometown to house-sit a travelling friend's villa. Sakuko is supposedly studying, while her young but serious-minded aunt works on her academic research in Indonesian history and literature. When Mikie's ex Ukichi (Kanji Furutachi) and his nephew Takashi (Taiga) enter the picture, unspoken feelings and tentative new friendship blooms in spite of past tensions and teenage awkwardness – but summer is drawing to an end, and Takashi may soon need to return to his parents back in Fukushima, who had sent him away for fear of the effects of radiation.
Director Fukada humourously charts a young woman growing into adulthood, while pointing out the confused and lovelorn world of the adults around them are hardly any more mature. Ukichi has a dodgy career running a 'love hotel' and a tense relationship with his only daughter Tatsuko, while Mikie is putting on an faí§ade of intellect and feminine poise to her heartbreak. The film touches upon but does not really address the Fukushima nuclear disaster, choosing to leave us with rose-tinted glasses and a pensive mood – but it's no worse off for it, and makes for an enjoyable and romantic summer film from this up-and-coming Japanese director.