Watch Present Perfect and Present Still Perfect on FilmDoo
For his 2017 feature debut, Present Perfect, Thai director Aam Anusorn Soisa-Ngim drew from his own experiences to tell the story of Toey (Adisorn Tonawanik) and Oat (Kritsana Maroukasonti), a pair of young men – one still recovering from a recent breakup, and the other engaged to a girlfriend back home – who have a brief affair during a trip to the small town of Higashikawa, Japan.
The film quickly developed a dedicated fanbase, as evidenced by the crowdfunding success of its eventual sequel a few years later. Where Present Perfect aimed to be true to life, Present Still Perfect offers a more idealistic view of same-sex relationships in modern day Thailand, as the pair of one-time lovers reunite once more on the remote island of Koh Kood.
Speaking to FilmDoo, Anusorn reflects on the journey of Toey and Oat, along with his own experiences as an independent filmmaker in the Thai industry.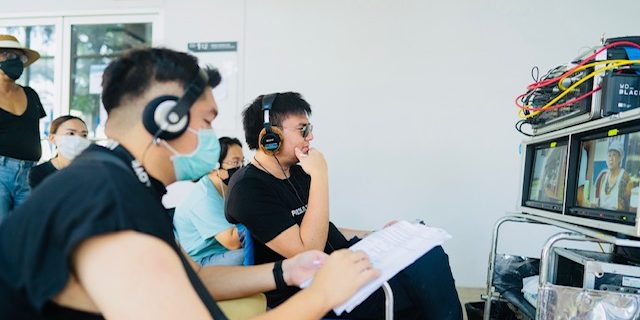 Present Perfect started off as a short film released in 2012, followed by a feature-length film in 2017 and a sequel in 2020. Why is it that you feel you keep coming back to these characters?
First of all, Present Perfect in 2012 was just a short film that I did because there was a huge flood in Bangkok, Thailand, that year, and my university was closed for half of the year, so I had some free time. I went out to the north of Thailand and then shot a story that related to me. I had been through this kind of situation. I was surprised by the feedback from the fans. They loved Present Perfect a lot and it was very overwhelming. So when I graduated from university, I told people I wanted to remake the film. I had learned a lot about the film industry, so I wanted to bring back the characters in 2017 because I just felt like I could make it better. I wanted to make it cool for people to just enjoy my realistic perspective and what I believed about love. The key message of Present Perfect is just that if you think in a different, new way, sometimes it's much better than you expect.
So, the Present Perfect in 2017 ended on the scene in the airport where he was about to accept or delete Oat's friend request, and I just left it there. I wanted people to create their own ending. I actually had my own ending but I wasn't sure at that time if they would accept it or not. In 2017, gay marriage was a thing that we didn't talk about in Thailand.
So that's why I ended it like that, and after that, I got complaints every single day from people, sending me messages like, "I cannot move on. Could you please make a sequel? Could you please make a second part? I don't care what's in it. I just want to know what is gonna happen between Oat and Toey."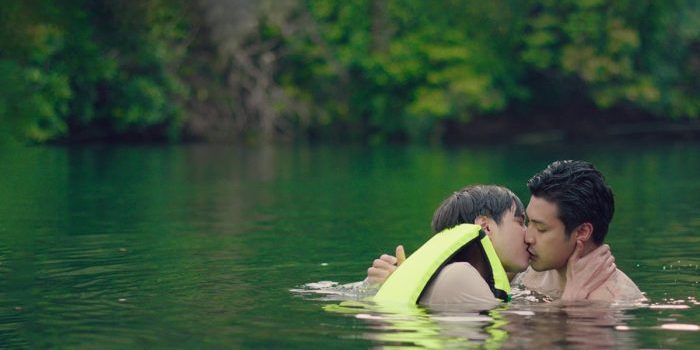 In 2018, I was saying that there was gonna be no Present Perfect part two. The main thing was that I had no budget because no one supported me. So one of my fans, she was suggesting to me, "Why don't you go to Indiegogo.com then create a crowdfunding thing." I was like, "Who is gonna pay the money to me? I am such a nobody. No one cares about me. Why do I have to do it?"
But I created this page and then put out information about Present Still Perfect. And then 60 days later, Indiegogo sent me a notification that "Your campaign is over. You need to go get your money." And I was like, oh, I got money? I was kind of confused. So I checked on the website and I got about 550,000 USD. It was a shock. I didn't expect that. And all the messages, all the comments saying, "you have to make a part two, you cannot leave us at the airport like that, I haven't been moving on in my life for like two years." And I was like, damn, are they gonna accept my ending or not?
So Present Perfect 2017 is more realistic. It's more about my life because part one is just something I have experienced before. But part two is more like how I wished society to be, how I wished people treated each other. Bringing back these characters, especially Oat and Toey, was just like seeing myself, and I was so happy with the way Present Still Perfect ended because my dream is to get married one day. I believe in love. There are two things in this world I believe in: love and Britney Spears. Part two is more like my dream and I'm so happy to see my characters successful in love. I feel like I got married already, even though it's not the truth. So yeah, the reason I keep coming back to these characters is I want them to be successful in love and, finally, they were.
The feedback to Present Still Perfect was really mind-blowing to me. I thought people were gonna be like, "Oh, you are living in a fantasy. It's too dreamy. It's not true." But people feel the characters, and people love it.
Present Still Perfect makes a clear statement in support of same-sex marriage. Do you feel that attitudes towards same-sex relationships have changed at all in Thailand in recent years? Is there reason to be optimistic?
No, I don't think anything's changed because these last couple of months I saw people try so hard to make same-sex marriage legal but at the end of the day the government does not approve. The reason that they give to people is, "Oh, we are a Buddhist country. We cannot approve that." So I don't think my film helped with Thai same-sex marriage and stuff like that, but I think one message that people feel in touch with is about the act of letting go, the act of forgiveness. If your husband is gay and you knew already because you've been with him for years, you have to learn to let go and accept the truth. That's the main topic that I really want to talk about. And so the answer to your question is that nothing has changed in Thailand and it's actually going backwards right now. I hope that the new government will do better than that.
Much of Present Perfect and its sequel is concerned with cultural differences. In Present Still Perfect, for example, a Japanese character explains how it is considered disrespectful in Japan to let an old woman have your seat on the bus. With that in mind, do you find that the way viewers respond to your work can also vary by region or culture? Do you make your films and TV shows with an international audience in mind?
Yeah, because I got experience when I was in Japan making Present Perfect 2017. I had to be there for like two weeks, just to do research and stuff like that. I realised there that letting an old lady have my seat was an inappropriate thing to do. I realised that time that there is no 'good' or 'bad' in the whole world, because 'good' has tonnes of different meanings. It's based in culture, it's based in the different backgrounds of people. So I don't believe in those kinds of things anymore. And yeah, it's very different from Thailand. Like, most BL (boys love) fans in Thailand are girls and women but, surprisingly, those women don't support same-sex marriage at all. And I feel so sad because with all the work that I've done, my message is to accept the beauty of love. We don't care if you are gay. It's nothing good or bad. Just follow your heart. That's quite eye-opening for Thai people to watch.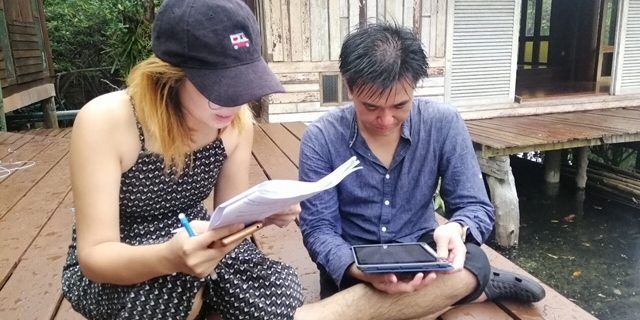 It's like how if you talk about the elite class in Thailand and you talk nicely about them, you're gonna be a good person. But if you go to US and you talk about them, US people don't care as much. That doesn't mean they're wrong.
As a producer and a filmmaker, what's more important to you: Reaching a large audience with your work, or staying creatively independent and in control of your work? Or is it possible to have it both ways in the current Thai film industry?
Yes, of course. In the last three years, I've tried my best to adapt myself, to not be too independent, because I got complaints a lot. "Aam is very artistic, he is really too indie." I don't get it. What does indie mean?
But yeah, I made my first tv series – it's called 2Moons2 – which got so successful. It was a real student love story but I made it in a realistic way, and it's eye-opening for Thais, especially in the film industry. They hadn't seen a show like that before and it was very lucky for me that it got nominated for best TV programme at the Content Asia Awards 2020, which made me so proud. And then my second series, from 2021, was called Call It What You Want. This series also got nominated for a Content Asia Award. So yeah, I try to be myself and, at the same time, I try to understand what the fans really want to see and it's just a blending together to make wonderful artworks. And I'm very proud of that.
So, to answer the question, it is possible to have it both ways. I think it's possible because I am doing it right now with my next series, Till the World Ends, which is so very weird compared to most Thai BL series.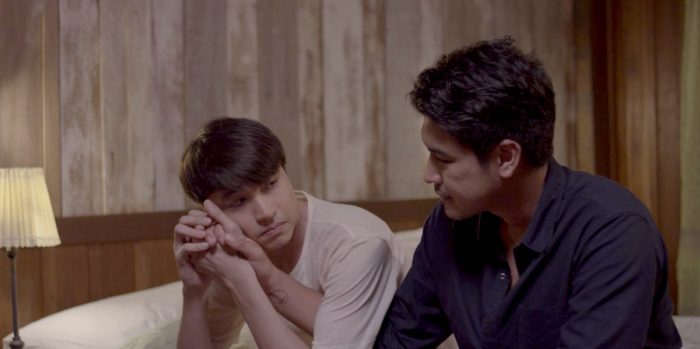 If you were just starting off today as an independent filmmaker, is there anything you would do differently?
Yes, of course. I have thousands of ideas in my head that I want to make but I'm an outsider. I don't fit in here in my country of Thailand. I'm a black sheep, and sometimes I say something that gets me in trouble. So yeah, I have lots of message I'd want to tell the audience if I could be fully independent and still get some money.
What does the future hold for you?
Right now, I'm making a series called Till the World Ends. It's about two guys living together thirteen days before the world is ending. One guy is searching for love and another guy has just lost his memory. Everybody in the country has gone to the shelter, and the chaos happens because those people who are still in the city are, like, prisoners, killers. It's very romantic and it's a sci-fi, a thriller, a comedy and I guarantee there's been no content like this in Thailand before.
So I'm quite excited to share this series to people. I believe it's gonna be my masterpiece, though I've shot about 60 or 70 percent right now, and the streaming platforms have some problems because of a China ban and lots of bullshit things that have an effect on internet platforms.
So I've just finished half of it and I still have half of it to make and I have no idea where I'll get that money from. The Indiegogo page that I used before, they took Thailand out of the list, which kind of sucks. So if you know anyone who is willing to invest or loves the BL industry or wants to see some very different content, just let me know. I cannot wait to share this series with you.
But right now, people are demanding Present Perfect part three, and I'm like like, "Damn, how?" I think Oat and Toey are what they are right now. They are in a good place. Even if they are fighting sometimes, they are good right now.
Find more Thai films here.