Dir: Matt Tyrnauer
By: Daria Landal
The Italian Emperor of haute couture, Valentino Garavani, has his swan song with this Oscar-shortlisted documentary by Matt Tyrnauer, a special correspondent for "Vanity Fair". The crew followed the designer during the two years leading to Valentino's celebration of his 45-years in fashion and eventual retirement in 2007.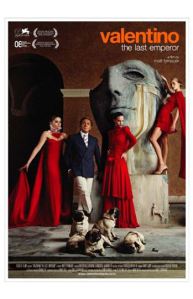 The documentary opens with Valentino's Fall 2005 fashion show, where we see the designer showered with fashion media attention, itching to know whether he's planning to retire or not. Modern-day documentary is interspersed with the documentary shots of the couturier in '60's, 70's and 80's, with Valentino opening up about his love of the 30's and 40's fashion and his famous clients, which included Jackie Kennedy, Audrey Hepburn and Sophia Lauren. We see Valentino and his team of seamstresses at work, from sketching new fashion designs to making a dress to fitting it on a model. Then, there are bits of the Italian designer's extravagant lifestyle, including his private party at a French mansion with half the Hollywood, European nobility and fashion moguls attending, preparations for an enormous farewell show in Rome and travelling the world in a private jet with his dogs.
Valentino's six pug dogs are the humourous highlight of the movie: we see them escorted to the airplane, enjoying the chase of one of the butlers, getting their teeth brushed with a strawberry toothpaste. At one points of the film, Valentino himself admits the dogs are his most precious possession: "I don't care about my collection. My dogs are much more important."
Despite a strong fashion allure all over it, the documentary lacks an in-depth insight into the personalities of Valentino and his partner Giancarlo Giametti, only occasionally treating the audiences to more personal comments from the duo. In one of them, Valentino showcases a strong-willed side of his character, indignantly rejecting any idea that the Marzotto Group (the owners of Valentino's company), could tell him what to do. The business side of the Valentino's life is brushed off, turned a blind eye to and generally discarded in favour of the fantasy couture world, until the ill muse of a stagnating economy intervenes. As Giancarlo Giametti revealed, Valentino «never realised there's a business behind making a sketch and a dress.»
Endlessly glamorous documentary captures Valentino's last moments as the head of his fashion house, leaving a slightly sour sensation afterwards. This is a haute couture tale of decadence, depicting a fragile world that is about to collapse before your eyes.
Click here to visit the Valentino: The Last Emperor page on FilmDoo and press the DooVOTE button to help bring it to your region!