By Sharon Calingasan
Watch Cautionary Tale on FilmDoo
As much a film about loss and sadness as acceptance and redemption, Cautionary Tale is an independent film that was made with the help of crowdfunding platforms such as Kickstarter.  The film depicts one man's (Ted Limpert) poignant journey through life and touches on highly relatable personal issues.
FilmDoo discusses the film with director Christopher Zawadzki.
What inspired you to write the film's screenplay?
Cautionary Tale came about quite organically and was developed by both myself and Ted Limpert, who is my cousin. This was in late 2011 when we were sharing our mutual disappointments in trying to forge our ideal careers – him as an actor, and myself as a screenwriter and filmmaker. At the time, we had a few friends who were using Kickstarter to finance little independent features, and then going out and making them with very little money and resources. They were getting stuff made, and that was the inspiring part! So, Ted and I talked about potential ideas for a story we could collaborate on, and eventually tied two story threads together from our recent experiences.
Ted had just hosted a pilot episode for a local children's TV show that didn't get picked up and I had just returned from living and working in Bangkok. We thought that focusing on a character in that profession, as he copes with a tragedy, was fresh and fascinating, especially against the backdrop of an unfamiliar and exotic locale like Bangkok.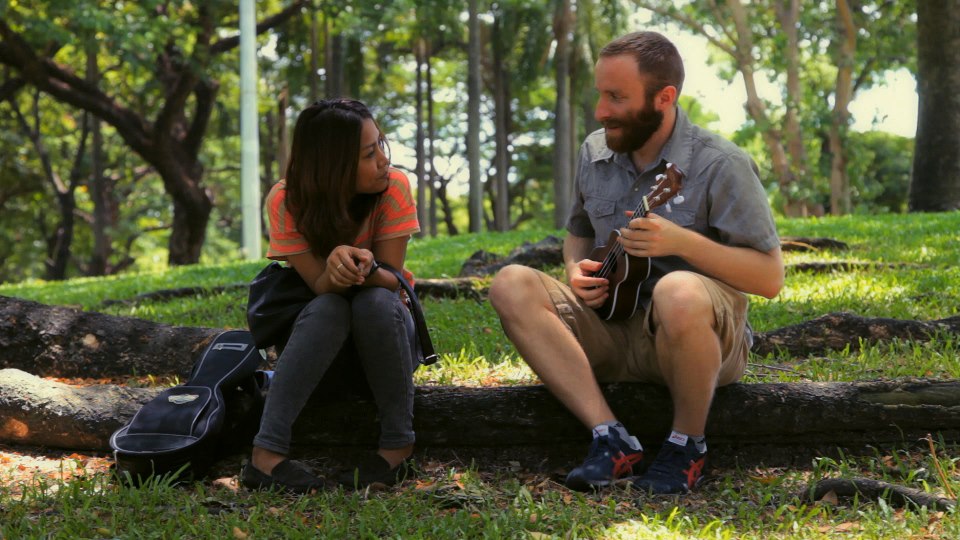 The film has a focus on music and features original compositions. What was significant about the film's musicality and what was collaborating with musician and producer Ted Limpert like?
I knew that Ted, being my cousin, was not only a capable actor, but also a very talented musician, and it was clear to both of us that we had to incorporate original music into the film. When I was living in Bangkok, I had become a fan of Dom's (Duangchan Boonrueng) band, who played six nights a week at a local club. I decided to get in touch with her about playing a role in the film, essentially portraying a version of herself. Dom had never acted before, and was weary at first. However, when I told her that the film was very much about how music can heal wounds, she decided to take part. It also didn't hurt that she was a fan of the two films we were clearly inspired by – Once and Lost in Translation. Both she and Ted contributed original songs and Ted composed and performed the original score himself.
When it came to the film's key song, my only contribution was giving Ted the primary refrain, which was the song's eventual title, If You Can't Hear Me. Then he went off and wrote this beautifully haunting song and collaborated with Dom in finishing it. For me, just having that song in the world is enough of a reason to have made the movie. I think it's gorgeous.
The film tackles one man's inner struggle with loneliness and melancholy due to a personal tragedy. Why did you choose Ted Limpert to play this character?
As mentioned, this was a ground floor collaboration between Ted and I. Ted came from an improv comedy background and had performed very little on-screen drama up to that point. However, I never had any doubts that he could nail this character. He brought out the inner pain of that character in complicated, insightful ways – in once scene Neil would be a stubborn provocateur and in another he would be a wounded listener. Ted was able to shift seamlessly, making us believe that Neil was feeling everything, while at the same time trying to avoid it all.
The film is shot predominantly in Thailand – why did you choose this particular country for the film?
My experience in Thailand, prior to conceiving Cautionary Tale, was a sincere eye-opening whirlwind for me and I wanted to try to capture that in the film. We were also aware of other films recently released that offered a take on the city and culture that only embraced the most sensational aspects. So, I felt there was certainly room to offer a different perspective by focusing on the more personal and emotional connections that come from visiting a unique and unfamiliar place.
What is the key message you hope your audience will take from the film?
My hope for Cautionary Tale was to move viewers with a story of healing and acceptance. In particular, the acceptance that everything in life is impermanent, which is a primary teaching in Buddhist culture. In the film, Neil feels that everything is frustratingly permanent – the job he's grown to hate, the life he's made for himself, the death of his daughter – but by the end, he comes to realize that nothing is permanent and that, perhaps, even loss and grief are forces of renewal and growth.
Is there a particular filmmaker that has been a major inspiration to you?
My deepest influence as a storyteller and filmmaker is the great Polish filmmaker Krzysztof Kieslowski. His film language and elliptical storytelling galvanized me in a profound way. His work is always, in equal measures, both intellectual and incredibly moving. Two of his tomes in particular, The Decalogue and The Three Colors Trilogy, taught me the importance of theme and philosophy in relation to film writing and directing.
Are you currently working on any new projects?
Right now, I am back in New York – having decided to return based on the result of the election – in order to try to find financing and production support for a second feature, entitled Bleed The Widow. The film's story and themes deal with illegal immigrants, foreign influence and a wounded national pride, and are now more relevant than ever. Being a dramatic thriller, it's a very different film to Cautionary Tale, but it is a passion project that has been 9 years in the making. Overall, I am currently pushing various projects – 4 feature scripts and 2 pilot scripts – out to production companies and networks in Los Angeles, hoping to finally sell some of my work, and eventually see it produced on big and small screens.